Liaoning CBK Carwash Solutions Co., Ltd. is the backbone enterprise of Densen Group. It is a professional R&D and manufacturing enterprise for automatic car wash machines, and the largest manufacturer and seller of touch free car wash machines in China.
The main products are: Touch free automatic car wash machine, Gantry reciprocating car wash machine, Unattended car wash machine, Tunnel car wash machine, reciprocating bus wash machine, Tunnel bus wash machine, Construction vehicle wash machine, Special vehicle washing machine, etc.  The company integrates research and development, design, manufacturing, service, and sales. It has professional production technology, advanced production process, sophisticated equipment, and perfect testing methods.
Six Washing And Care Functions
A high-pressure nozzle, can effectively chassis, body on both sides, and the wheel hub of the sediment and other fixtures washed clean. Especially the snow melting agent in winter, which the dirt that sticks to the chassis, if is not cleaned in time, will cause the chassis to rust.
The L arm adopts the way of uniform speed,which rotates 360 degrees to spray the car washing chemicals evenly to every part of the car body, no cleaning dead corner. And the fan-shaped water medium polishing is used to clean the body comprehensively.Fan-shaped water medium polishing washing body, equal to polishing body once
With unique technology, high-pressure waterway is separated from the non-scrubbing car fluid, and an independent small mechanical arm sprays atomized non-scrubbing car fluid, which can improve the decomposition effect of car wash fluid while saving energy. Efficient sewage recycling treatment, energy-saving and environmental protection, ultra-low emissions, and compliant operation.
The L arm adopts the way of uniform speed, uniform pitch and uniform pressure, and the fan-shaped will precise dosing of the mixture was then sprayed evenly over the body, decontamination at the same time can also complete the care of the glazing effect.
Coating water wax can form a layer of molecular polymer on the surface of carpaint, it's like putting a bulletproof jacket on a car, with protective paint, acid rainprotection, anti-pollution, arrogant outside line erosion function.
4 motors embedded in the washing machine, control the airflow by four cylindrical outlet, the first task is to split a bunch of wind air, reducing wind drag subsequent to follow airflow to dry the surface of the car body, we optimize the characteristics of wind speed.
Built on a legacy of cutting-edge design and operations, CBK Wash Soluction leads the way in Equipment, Facilities, and Operations. Our products will support you every step of the way, from the smallest fitting to a comprehensive franchise solution.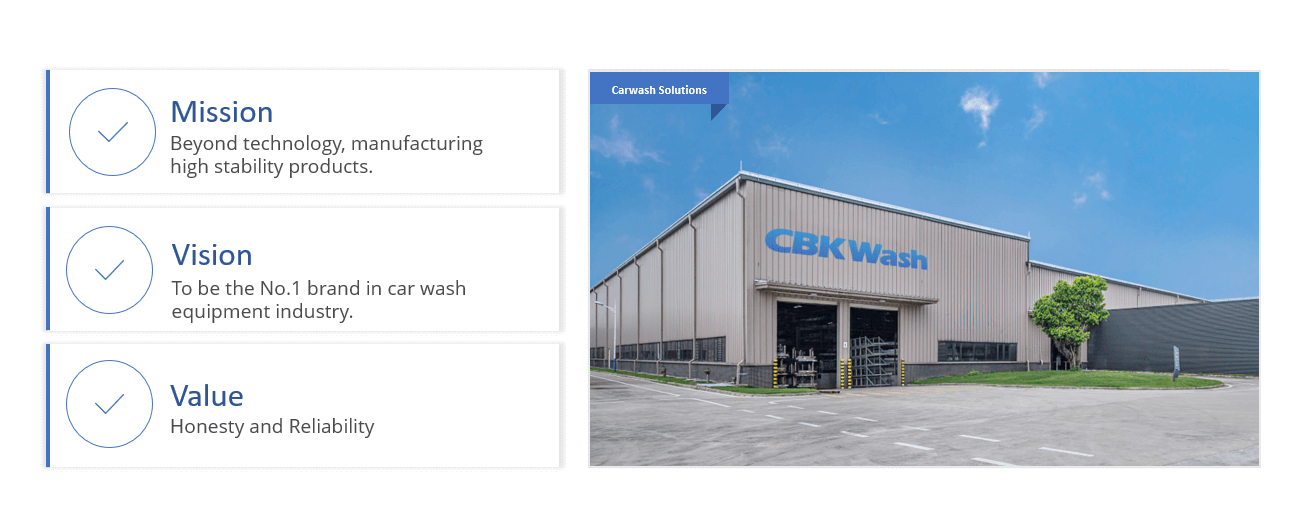 Everything You Wanna Know About Us